Join us this Sunday
Worship with us:

483 McNaughton Ave E, Chatham ON

Service times:

10:00am & 2:00pm
The winter session of this program has come to an end! Thank you to all our participants and volunteers! If you're interested in a future session, please check this page regularly or send us an email via [email protected] to be added to our mailing list.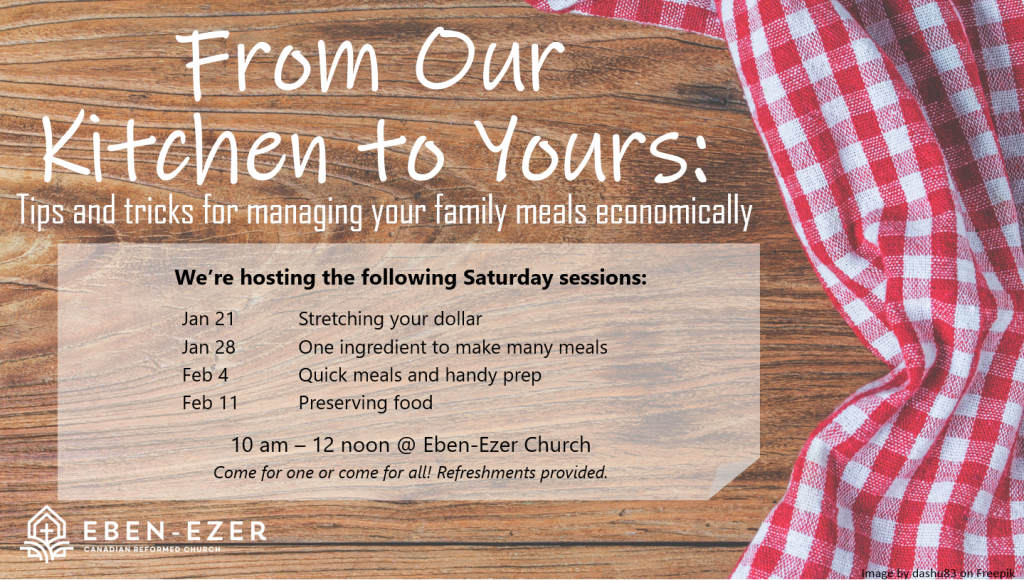 Eben-Ezer church is excited to offer a new home economics / life skills program that features 4 sessions for interested members of the community. We want to share the skills we have learned from our parents, grandparents, neighbours, and fellow church members over the years with those in our community. We will look at a number of topics related to family meal planning, all focused on doing more with less, and relate to budgeting, cooking with staples, meal preparation, and food preservation.
We will be hosting these FREE sessions on Saturday mornings at the Eben-Ezer Church basement from 10 am to 12 noon. Each session will be unique in format, and will aim to be interactive so that you can ask questions about each of the topics. The classes will be small to help facilitate this. Where needed we will be able to use the kitchen available there, and we will have volunteers join us who are excited to share their knowledge and experience with you!
You can join one of these sessions, or you can join all of them (or 2, or 3):
Jan 21: In Stretching your dollar we will work on making a budget for your groceries, but also look at ways to shop, including using flyers, coupons, and more.
Jan 28: In One ingredient to make many meals we will look at the many ways in which you can cook with staple ingredients, like potatoes, rice, and beans.
Feb 4: In Quick meals and handy prep, we will share some ways to prepare for busy nights, and will focus on quick and nutritious meal options.
Feb 11: In Preserving food we will talk about canning, freezing, and storing different foods in different ways to extend their freshness.
Please register using this link, or contact us via [email protected] with any questions.